Fort of Mind
For eternal naughty boys,it is, MOUNTAIN DOMU
One of the largest hand built (by the owner) log Cabin pension in Japan
English and Spanish speaking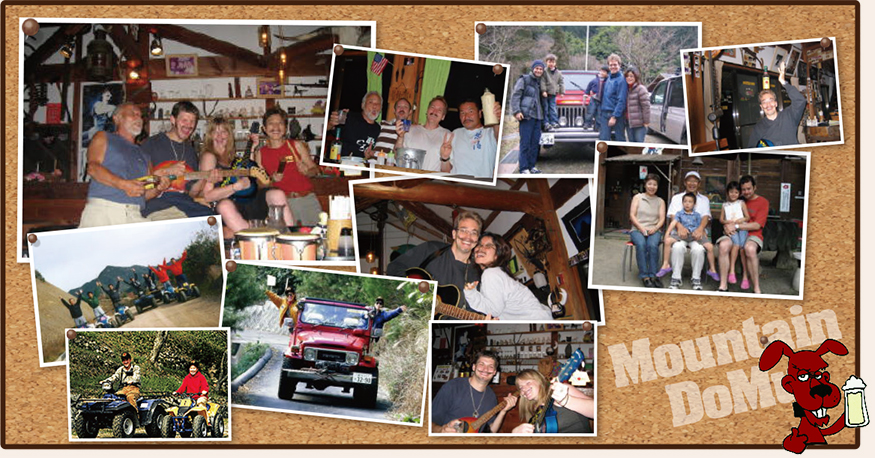 Fascination of Mountain Domu
¢£3 hours from Osaka Station.
¢£2 and a half hour from Sannomiya, Kobe.
¢£Via Awajishima - We are 30min. from Takamatsu-chuo IC.(Takamatsu EXP.WY)
¢£Via Seto bridge - We are 30min. from Takamatsu nishi IC.or Fuchuko IC.(Takamatsu EXP.WY)
¢£we are 30min. from Mima IC, (Tokushima EXP.WY)
Beautiful log cabins on a special plot next to the Aya River.
You can get away from urban hubbub and can get in touch with nature's bounty and animals of each season.
You can stay with your pets ( even big dogs ) .
Recommendable for adventure touring with 4 wheelers. and beautiful nature walks in the hills
Check-in 12:00PM -out 12:00PM
Enjoy staying 24hours !
We have a tennis court, Restaurant, Bar, beautiful creek.
You can take a bath in an original hand made wild bath.
Dinner in summer - outdoor garden party barbeque with a nice bon fire
In winter - dinner in the restaurant
At night - Shirohige's special talk-show
Good sleep, then late breakfast is available.

Owner's profile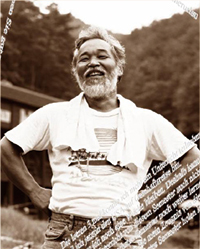 ¡‡\&B singer when he was university student.
¡úHotel General Manager in his 30's.
¡úFounded Mountain Domu, one of the most famous biggest log pension in his 40's.
¡úHe published a book about mountain life and it got good reviews in his 50's.

He sometimes is a log builder
Sometimes a musician,
Sometimes an essayist,
But his true character is being the owner of one of the biggest pension in Shikoku (Kagawa).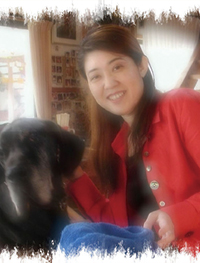 "Hello" "Welcome" "Nice to meet you" "Mucho gusto"
There are various greetings but we would like to say
"Welcome back " to our Mountain Domu families.
Then, we hope to feel the same atmosphere for new visitors, too.
We really would like to be your hometown.
Forget routine busy days, and relax in natures, and be more energetic.
A customer says "I do not want to go home, I will be back soon!!"
We are glad to hear such massage from customers.
We will do further effort to be your hearty hometown.
Thanks you very much for your further support. From proprietress

Log Cabins
Hand built log House by the owner
One of the largest main log house in Japan
Owner's original designed restaurant, rooms of main log house
Special 4 baths
You can reserve by couples, families, groups

Dinner
We will decide garden barbecue or restaurant dinner
depending on the climate, temperature, number of customers, ages. etc¡Ä
| | |
| --- | --- |
| ¢£Garden Barbecue Party | ¢£"Irori" "Nabe" Party |
| | |

Fees
¢£
For adults
11,000yen¡Ä(dinner and breakfast per person per night) (tax included)
¢£
For children
Under the age of 2 (no bed, no meals)
¡Ä2,200yen
Infant (3-year-old to preschool)
¡Ä3,300yen
elementary school (1-3 grades)
¡Ä5,500yen
(4-6 grades)
¡Ä8,800yen
Junior high school students and older are the same as for adults.
¢¨ If you stay 2 nights, 2 dinners, 2 breakfast and 1 lunch is included.
¢£
For pets
2,200~3,300yen per head per night.
Please feel free to ask any question about pets.
¢£
Check in
¢£
Check out
12:00¡Á
¡Á12:00(1 hour before busy season)
¢£
Dinner
¢£
Breakfast
Basically,18:00 to 20:00
Basically,8:00 to 10:00
¢£
Internet connection
Wifi is available, free of charge, all area. Please ask concierge.
¢£
Amenity goods
We have prepared shampoo and body soap, hair dryer.

¢¨ Please bring your own pajamas, toothbrushes, and towels. Available to rent those amenities.
Sports Towel ... 100 yen to rent ... 800 yen for sale
Bath towel ... 300 yen to rent ... 800 yen for sale
Toothbrush ... 100 yen
(Rates are all tax included.)
¢£
Drinks
Japanese green tea, hot & cold water is free. Please ask at the restaurant bar.
Other soft drinks can be ordered at restaurant bar with additional cost.
There is also a vending machine.
¢£
Alcohol
Many kinds are prepared. Please enjoy at the restaurant bar.
(restaurant bar menu : cost additional)
¢£
Hotel charges or cancel fees
Three weeks before reservation : no charge
One week before reservation : 20%
One day before : 50%
Same day cancellation : 100%.
¢¨Fee will be borne by the customer in this case.
¢£
Request from the owner
Please do not hesitate to contact us by phone for further information.
¢£
When you book by e-mail, please¡¡mention;
£±¡¥ date you would like to stay
£²¡¥ your full name and how many people will stay
£³¡¥ your address and phone number(home/mobile)
¢£
Reservations & contact us
Please call us or send e-mail.
TEL:087-878-1101
+81-87-878-1101(International)
FAX:087-878-1103
+81-87-878-1103(International)
E-mail:info@mt-dm.com

Access Map
There is a small valley, called Kashihara keikoku,
the heart of 1,000m class mountains in the border between
Kagawa and Tokushima prefecture.
Pick Up Services
Please call us if you would like to know more details!
(We can pick up at the Takamatsu station or airport in off-season.)
Phone: 087-878-1101(in Japan)
+81-87-878-1101 (Outside Japan)